I've always felt that the best hike is a challenging hike that takes me out of my comfort zone. I might not always love it while I'm doing it, but when it's over I feel a sense of accomplishment that leaves me ready for more. Hiking with young children, however, can offer a set of challenges that I'm less enthusiastic about. Between worrying about steep trails, tantrums, wild animals, early fatigue and potty breaks, getting out to explore nature as a family sometimes gets my heart racing faster than a hike up the mountain. 😉
It's rare to find a hike these days that is both toddler friendly and provides a good cardio workout. That's why the Meadow Spring Trail up to Mary's Rock Summit at Shenandoah National Park is a real gem. There are several trails that will take you to the summit, but this trail is the most family friendly. It is just shy of 3 miles up and back, with a gradual elevation of about 1,100 feet. We started at the Meadow Spring Trail parking area (mile marker 33.5) and hiked to the summit a little over an hour (with a few short breaks.) Lucas has never hiked more than 2 miles on his own, so we were pleasantly surprised when he did the whole hike, including summitting the mountain!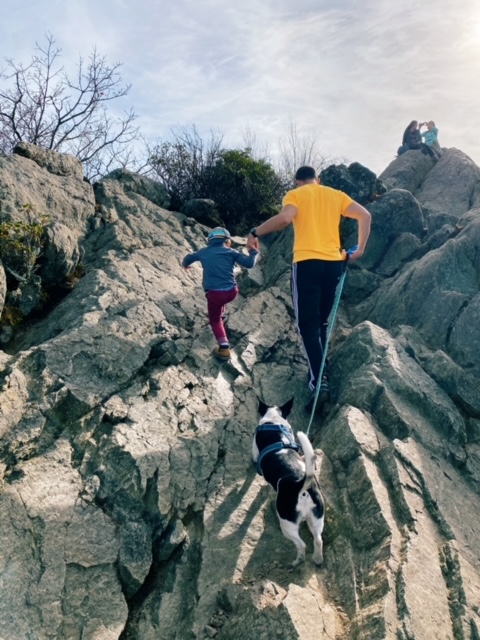 What makes this trail great to do with kids are the wide paths and "steps" up the mountain. The only rock scramble is at the summit and it is optional. You can still get amazing views of the valley without scrambling on the rocks. The fact that you can summit Mary's Rock without a scramble or getting close to any cliffs is a huge benefit with young kids. Nothing kills the zen vibe of hiking faster than me frantically yelling "get away from the cliff edge!" at my toddler, and husband; and yet it happens often.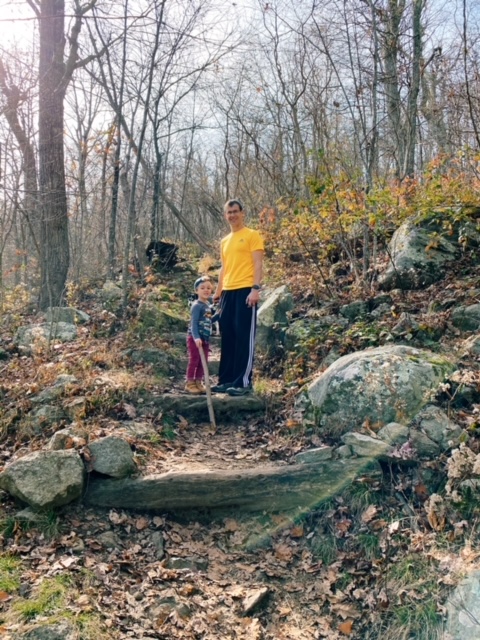 Another great thing about this trail is that the scenery changes, which helps keep things interesting for the little ones when you're trekking for an hour through the woods. We came across an old stone chimney, plenty of big fallen trees to climb on, rocks to climb, scenic viewpoints, and even a snake's skin.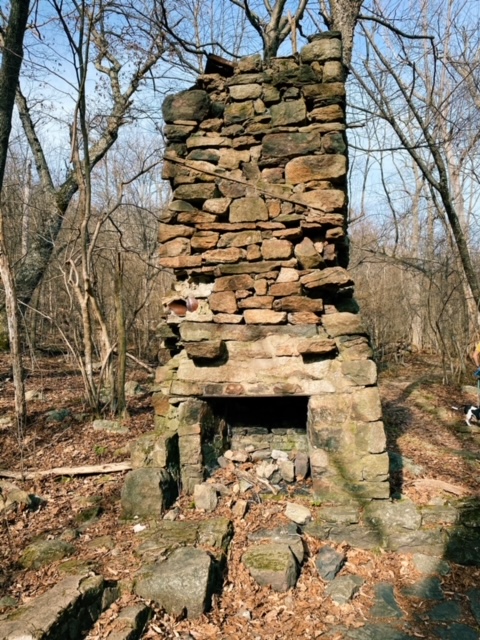 One final thing we loved about this hike is that it's dog friendly. We noticed a lot of the hikes with elevation in the park do not allow dogs. Jackson was happy to get a workout in, too.
A few more tips:
Park at the Meadow Spring Trail parking lot after mile marker 33.5. Be aware that the lot is small, we had to circle around a few times on a weekday before we got a spot. Once you've parked, cross the street and follow the trail markers for Meadow Spring trail.
Be bear aware. Shenandoah National Park has the most black bears per square mile anywhere on Earth. The park signs warn visitors that encountering a bear is likely. While we didn't see any, we left our snacks in the truck and I insisted we use bear bells so that we made plenty of noise.
Be mindful of snakes, especially in the fall season when fallen leaves offer plenty of hiding spots. There are venomous snakes in the valley.
As always when hiking, bring water, hiking boots, and be mindful of ticks (the temperatures need to be consistently below freezing before tick season is over.)
Be COVID safe, we always have our masks with us. This trail was empty enough and wide enough that we were able to keep a safe social distance on the few occasions that we did encounter other hikers.
Cell phone service on the trail is spotty, at best.
This hike is in the Shenandoah National Park, you'll need to pay an entrance fee to hike. It's always a good idea to check the park's website for the latest conditions before visiting.