Kiawah Island, South Carolina
One of my favorite experiences from our family travel so far has been our visit to Kiawah Beachwalker Park, on Kiawah Island, South Carolina. What makes this beach so special?
One unique thing we loved was the compact sand along the water, which makes this a great place to ride your bikes on the beach. I was skeptical at first, honestly, I pictured frantically pedaling on the beach like I was in spin class, but that was not the case. It turns out that riding your bike on the beach (in the right conditions) is a lot of fun! It's also a great way to cover a lot of ground in a short time. We calculated that we rode our bikes a good 3 or 4 miles on the beach, which is far more than we could have walked with a toddler in tow.
What made this place absolutely magical was the opportunity to get really close to the dolphins (safely!). We heard that Kiawah Beachwalker Park is a good place to see dolphins, and I imagined spotting them in the ocean from afar (which did happen.) We don't often see dolphins in Massachusetts so spotting them was exciting. And then this happened.
It's called strand feeding, and we learned from one of the conservation volunteers on hand that this is the only place in the world where you can observe dolphins strand feeding. There is a man made canal at the far end of Kiawah Beachwalker Park beach, as the tide changes the dolphins chase the fish up on to the embankment of the beach, and then they propel themselves out of the water and on to the shore to grab the stranded fish.
Observing the strand feedings has become so popular that local conservation volunteers are stationed on the beach during feeding times. When we first arrived, we were watching the dolphins out in the water from the edge of the water. Thankfully a volunteer warned us to move back from the shore, and he explained how the dolphins strand feed. While an adult would probably just get the surprise of their lives, he warned us that small children can get hurt. (Take note if you plan on visiting, because we saw a lot of tourists not making good choices.)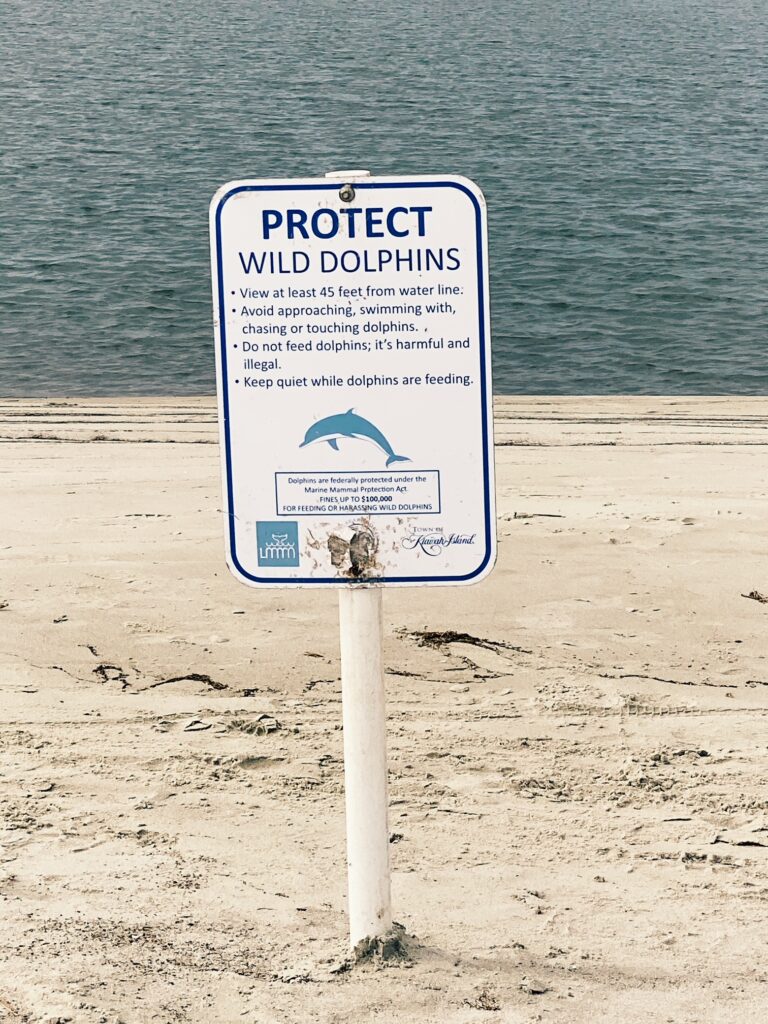 The volunteers on the beach are really great, we had the opportunity to ask questions and learn more about the dolphins. Like we've experienced on whale watches, they had a photo book with each named dolphin and how to identify them. (I can only remember Hook now, so named for the shape of his dorsal fin!)
A few fun science facts: the dolphins will only strand themselves on one side of their bodies; because they spend their lives catching fish this way, they will often get scars from rocks and shells along the sides of their bodies. They will also wear down their teeth on the side they beach themselves on, but not the other.
If you want to learn more, I encourage you to check out the Lowcountry Marine Mammal Network. Their website is full of educational resources and some amazing videos!
I never got tired of watching these dolphins. It's not often we get to see them up close in the wild; they were truly captivating.  
Once you're tired of the dolphins (or in our case, your kid gets tired of them,) the beach itself is really enjoyable. The tide goes out pretty far at low tide, so there's plenty of shallow, warm water and flats to play on. As the tide comes in, so do the waves (at least when we were there,) which is always fun. Be advised there are signs posted warning of rip tides and strong currents.
Boat rentals were closed when we visited, but during the busier seasons you can rent kayaks and paddle the canal to view the dolphins. We saw some kayakers while we were there and the dolphins swam close to them. There are dolphin cruise tours offered, we saw a few on our days there. Honestly, all the loud, motorized tour boats seemed to do was chase the dolphins away and annoy onlookers (like me!)
Whether it's biking, swimming, shell collecting, or wildlife viewing, there is something for everyone at Kiawah Beachwalker Park. If Kiawah Island isn't on your family's bucket list yet, it should be!
Here are a few more tips to help you plan your trip:
Kiawah Beachwalker Park is on the west end of Kiawah Island, South Carolina
It is the only public beach access on the Island. I imagine it's very busy during the peak season. We visited in November and had great weather without the crowds.
The beach is dog friendly up to a point, you can't bring dogs near the canal where the dolphins are. Be advised that the beach is patrolled, and you will be told to leave (even in the off-season.)
The sand is compact making it a popular place to ride your bikes ON the beach but monitor your bikes as the tide comes in, it's fast!
Be sure to check the website for up to date information, we first visited on Thanksgiving which is one of the few days out of the year that the beach parking lot is closed.
Parking is $5/car in cash
There are public restrooms, showers, and a picnic area
Masks are mandatory while walking through the public areas and on the board walk