Beaches, Ice Cream, Mini Golf, and Fun Filled Adventures for the whole family.
Spring break is here, if you're planning a trip to Florida, this post is for you.
Ft. Myers Beach isn't just about sun, sand, and the ocean (although those are some of my favorite things!) When we first started planning our RV route I knew a trip to Florida would be on our agenda. This was our first trip to the Ft. Myers area as a family and there was so much to keep us busy I wish we had stayed longer.
Although travelling with kids during COVID-19 can feel daunting, it is possible to enjoy a family vacation while still staying safe. In this post I share our favorite things to do in and around Ft. Myers Beach, Florida.
Hit the beach
The white sandy beaches and bountiful shelling opportunities just can't be beat along the Gulf Coast of Florida. We had a blast splashing in the surf, teaching Lucas how to boogie board, building sand castles, and watching the dolphins along the coast while we looked for seashells.
Here's a list of our favorite beaches in the area:
Lover's Key State Park – Pack a picnic and enjoy the day at this beautiful state park. In addition to 2 miles of white sandy beaches, we liked the nature trails that loop around the island (just over 2 miles and really nice if you want some exercise in the shade!) There are also opportunities for paddling, biking, boating, fishing and wild-life viewing. Be sure to check their website for the latest on parking and COVID-19 updates.
Ft. Myer's Beach – Ft. Myer's Beach offers a long stretch of beach with multiple public access points dotted between the condos and hotels. This area offered the most amenities, the beach is teaming with restaurants, bars, shops, and rentals for everything from jet skis to cabanas. It's also the most crowded area we visited. If you enjoy being in the middle of all the action, this is the place for you. Pro tip: parking fills up quickly and gets expensive in the busy season, I recommend walking or biking if you can. We brought our bike locks and parked our bikes at one of the public access points.
Bowditch Point Park – One of our favorite spots, this beach was much quieter than Ft. Myer's Beach when we visited. It's at the tip of the island, a stone's throw away from the eastern point of Sanibel Island. This is a great spot to watch the fishing boats come and go. The rocky tip of the island also offers opportunities for kids to climb and hunt for "treasures." We discovered a long stretch of sand bar that you can follow down the beach about a mile south to Ft. Myer's Beach.
Sanibel Island – I have great memories of Sanibel from previous visits and its' beauty still did not disappoint. I especially love the drive over the Sanibel Island Causeway, the views are amazing. Be warned, the toll fee is hefty. The island was crowded when we visited, it took us about 40 minutes to get to Bowman's Beach. Compared to the other beaches we visited in the area Bowman's Beach did not have the same powdery sand we've grown accustomed to. Regardless, if you want that small island beach vibe, Sanibel Island is the great place to spend the day (or book a stay for even longer.)
Caspersen Beach (aka "Shark Tooth Beach"), Venice Beach, FL – Although this beach is technically in the Sarasota area, I'm including it because we made a day trip there while staying in Ft. Myers Beach and it was worth the drive. If you saw our post from our trip to Shark Tooth Island in Georgia then you know we've developed a taste for treasure hunting. We couldn't help but check out Caspersen Beach to see what we could dig up.
The beach is lined with large rocks and jetty outcroppings, but still offers visitors powdery white sand. We weren't the only beachgoers hunting for shark teeth on our visit. Although the shark teeth were much smaller than what we found in Georgia they were plentiful, and easy to find once you committed to looking. On the day of our visit John brought home over 50 shark teeth (what we'll do with all of these fossil treasures is still TBD.) 😊
Be warned that parking is limited, so arrive early or pack your gear and prepare to walk a little over a mile from Brohard Paw Park (this is what we had to do.)
Go for a bike ride
Biking has become one of our favorite ways to see an area we're visiting without the hassle of traffic and parking. And of course it's the perfect way to sneak in some exercise while out sightseeing. Lucas is still too young to ride with us on his own bike, but we're loving this front mounted children's bike seat. Lucas loves it too, I can hear him chatting away with John about everything we see as we cruise on our bikes.
Our favorite bike ride was from our RV park over the Matanzas Pass Bridge to Estero Island. The bridge is 65 feet high, offering beautiful views on all sides. Most importantly it offers an alternative to driving to the beach (there was a lot of traffic whenever we crossed.) You can easily walk or bike along the pedestrian path over the bridge (or opt for the bike and bus lane to travel with traffic.) We saw a lot of people enjoying the views and the live music that can easily be heard from the popular restaurants down below.
We found Ft. Myers Beach to be bike friendly and the best way to enjoy the area without suffering through traffic in the heat.
Explore a nature trail
I already mentioned Lover's Key State Park's nature trails, another great spot is the Matanzas Pass Preserve. This park is small, but we enjoyed the various trails that loop through lush foliage arriving every so often at a spot along the water to enjoy the views. We visited with friends, and there were very few other people there on our visit which meant the kids could run around without worrying about bumping into other people. Although parking is free, the parking lot is small and there are no restroom facilities so plan accordingly!
Enjoy a sweet treat
In my mind, warm sunny days on the beach should always end with ice cream. And while we couldn't end all of our days with ice cream during our time in Ft. Myers Beach, we did enjoy quite a few frozen treats to Lucas's (and my) delight.
Every time we rode our bikes to the beach we passed Sticky Licky Ice Cream, so it was only natural that we would stop in a few times. Not only is the ice cream tasty but this stop is photo opp worthy too (and we love a good touristy photo in our family!) If you're in the area, all you have to do is keep an eye out for the big pink elephant.
Love Boat Ice Cream is another great spot. We were intrigued by the salted caramel bacon ice cream flavor. Although we agreed that bacon does not belong in our ice cream, the salted caramel was delicious and we would definitely go back.
Have some family fun
Lucas discovered mini golf this year, so it's always fun when we can find a new place to play as a family. Our favorite so far has been the Tropical Breeze Fun Park in Cape Coral which claims to have "the world's longest hole." I can't confirm if the claims are true, but I can say that the course is a lot of fun. They also offer a bar where you can get frozen wine cocktails, beer, and treats for the kids. Which I thought was a fun little twist.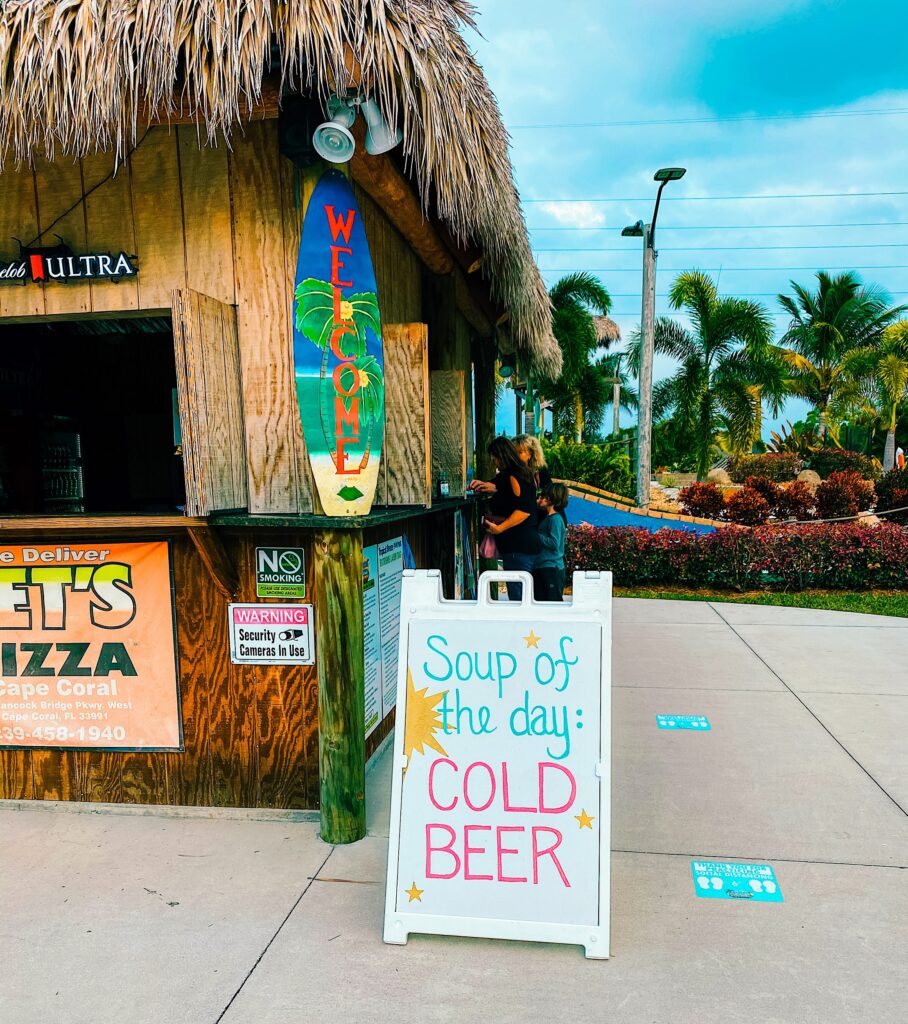 The Shell Factory and Nature Park is a unique destination. Inside you'll find the "factory" (aka, large gift store) with shells from around the world, touristy gifts, toys, and the largest selection of Christmas village decorations I have ever seen. If you love to add to your holiday collection year-round, this is the place to shop.
Outside you'll find the small zoo, a dinosaur park (Lucas's favorite,) and a petting zoo. When you're done visiting the animals, you can head over to the small amusement park (some rides are closed due to COVID-19) which includes a carousel and bumper boats. As if that wasn't enough to keep everyone busy, you can play a round of pirate themed mini golf. While this facility was a little dated it's a fun place to keep the kids happy when you need a break from the beach.
The Calusa Nature Center and Planetarium is another great place to explore some nature trails and meet some friendly animals. The animals here are all rescued and either injured or domesticated so they cannot be returned to the wild. On our visit we were able to pet a skunk and a California King snake during a live animal show. Other animals are in enclosures, such as Bald Eagles, owls, and racoons. I especially loved the butterfly sanctuary where, if you're lucky, the butterflies will come to you. We love these opportunities for Lucas to engage with animals as we learn about them so this was a lot of fun.
In addition to the animal exhibits there is a planetarium and a small space exhibit. The facility did a great job managing social distancing inside the theater on our visit. The show on time through the ages was a little over Lucas's head, but he enjoyed the exhibits outside of the theater, especially the opportunity to touch a rock from Mars.
This is a great place to pack a picnic and spend the day. When we were done with the exhibits we explored the nature trails, which we had to ourselves.
Where to splurge
Let's face it, a vacation with your kids isn't all pina coladas on the beach, it's a rewarding but tiring adventure. Why not treat yourself to a massage? John gifted me a massage at Yweight Body Sculpting for Christmas. I'll admit I was nervous about getting a massage because of COVID-19, but John researched their safety protocols in advance knowing I would be hesitant. Once I arrived, my massage therapist Jeremy Jeffery was reassuring and cautious. It was honestly one of the best massages I've ever had!
Where we stayed
We spent two weeks at Gulf Waters RV Resort in Ft. Myers Beach. This is a private, gated community, which is very different from most places we stay. Each site owner can rent their site when not using it personally. Because of this the park felt like a tight knit community and everything was exceptionally clean and in good repair. Although this park is designed more for snowbirds than children, Lucas had a great time in the pool or riding his bike, and we felt very welcome. I loved the location of this park, we easily biked the few miles over the Matanzas Pass Bridge to the beaches instead of sitting in traffic.
Looking for even more suggestions?
The Visit Florida tourism website is a great resource for all of your travel needs.