Shark Tooth Island, Savannah, GA
Who doesn't love a good treasure hunt? In Savannah Georgia, there is a unique opportunity to find treasure (fossils) as easily as walking down the beach and picking them up. The Savannah River (on the border between Georgia and South Carolina) gets a lot of freight ships that pass through. In order to make sure the waterway is deep enough for these massive ships, the riverbed is constantly being dredged by huge machines. The sediment that they pick up from the river floor (spoil) is then deposited on these manmade islands. One of these islands was nicknamed "Shark Tooth Island".
Because of the position of the island, the strong river currents, quick rising tides, and wakes from passing freighters, it is not advisable to kayak out to these islands yourself. Even if you have your own boat, it was not advised to anchor it to the Island because of the quick tides and the wakes from ships. Apparently, it can damage smaller boats. There are many local companies in the area which offer boat rides to the island. They drop you off and then come back a few hours later to pick you up. This seemed like the safest option, even if it is not exactly the cheapest.
I researched different companies offering rides to the Island, but because it was the off-season, my options were actually quite limited. We ended up choosing the Bull River Marina. They were right off Rte 80 on the way to Tybee Island.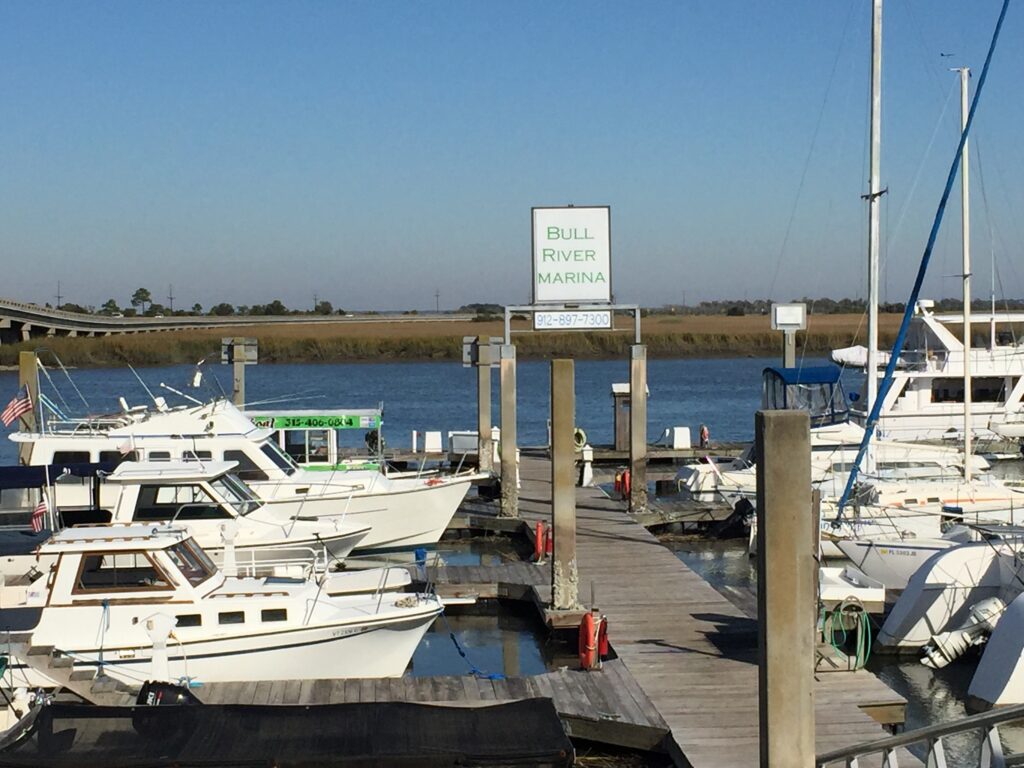 The cost when we went was $65 for adults and $55 for children under 12. I was getting used to places offering free admission for children 3 and under, but this was not one of them. There is an option for a private boat trip for up to 6 people and costs $390, but that doesn't really seem like any kind of a discount to me (6 X $65 = $390). Because it was the off season, they offered a bit of a discount for us to go. They were also kind enough to not charge us for a private boat trip even though we were the only ones on our boat.
When we booked our trip over the phone, the lady at Bull River Marina looked up the tide information and gave me some options on which days we could go and when. You want to be at the Island for low tide for the best chance of finding fossils along the low-tide waterline. And the low tide time changes with each day. There are approximately 12 hours and 25 minutes between low tides. This means if low tide is at 9:00 AM on Monday, then it will be ~9:50 AM on Tuesday.
The Bull River Marina was also flexible with the amount of time we wanted to stay on the island. We could have stayed a shorter or longer amount of time if requested. We just couldn't change our minds the day of our trip because they already had planned other boat rides around our trip. I will say that I wish we had stayed a bit longer than the 4 hours we requested.
We were told that we should bring our own shovels, but that we could borrow some sifting tools from them. The sifting tools turned out to be simple plastic cooking colanders, but whatever, they worked and they were lightweight.
The boat ride out to the Island was relaxing. It was a fast boat so there was a lot of wind in our faces, but we luckily had nice weather. Our captain was nice. He was from the area but had no real interest in shark tooth hunting himself. He just liked being out on the water. He did give us some tips and told us stories about what other people had found. That got us excited. I was ready to find a megalodon tooth 😊
When we got off the boat, we didn't have to get in the water at all. The boat went right to the shore and we got off on the sand. I can't say the same for when we got picked up (because of the tide). I had to take my boots off, hike up my pants and wade into the water to get into the boat.
Once we were on the island, we had a lot of options on where to look. Technically the island is under the jurisdiction of the US Army Corp of Engineering so they don't want you going up beyond the top of the rock embankment on Northern side. They are still dumping more material on these islands and don't need you getting in the way.
We walked along the shoreline just scanning the ground. We weren't really sure what we were looking for, but figured we would know it when we saw it. One thing that helped is we were told to look for black shiny objects in the shape of a "T" rather than looking for a triangle shape. That did actually seem to help.
It only took a few minutes of hunting around before we found our first tooth. I remember being pretty excited about it. Especially since it was just lying on the ground on top of the sand and rocks. After a few more minutes, we found a few additional shark teeth on the beach near the waters edge.
At this point, we decided to break apart and check out different areas to hunt and see what we could find. Our options seemed to be:
Search on a massive clay-like mud flat about 10' above water level

We played around smooshing this stuff between our fingers looking for fossils for a bit before we gave up. Didn't find anything, but boy did we get dirty doing it.

Search in the dirt cliff face

Spent some time searching the eroding dirt cliff faces to see if there was anything there. We sifted a good amount of material but came up empty handed.

Dig into the sand and use a sifter

This was also a slow process and we were not lucky enough to find anything. Maybe you need to know where to dig, but we didn't find anything this way.

Search on the sandy/rocky area by the water

This was by far where we had the best luck. We found some spots by the water where there were large caches of shells and rocks. They were most prevalent right at low tide (so they are only visible briefly). But when we just plunked ourselves down and looked closely at the ground, we ended up finding many many shark teeth. I would go so far as to say it was easy finding them. But we did realize that when we stood up and walked by them (even if slowly) we didn't find nearly as many as when you sat down and just looked really closely at a small area.
Overall, I thought our day was a real success. Our 3.5 year old was able to entertain himself enough on the beach. He was too young to really find any himself (unless I helped point him at it). He had fun just dragging around the big shovel we brought with us and throwing rocks in the water. Unfortunately, it was more than just rocks he threw in the water. Becky had found this really large bone specimen that I think might have been a fossilized vertebra from a whale. Well guess what got tossed back into the river because he thought it would make a big splash? Oh well, we will just have to come back on another visit and find it again. 😊
Helpful Tips:

Early winter is a really good time. There were only two other people with us the entire time we were on the island and the bugs were not nearly as bad as some stories we have heard.
The Marina is right before a LONG bridge and doesn't have a very good sign, so if you miss it, you may have to drive a few miles before you find a good place to turn around. We of course missed the entrance and went about 7 miles down to Fort Pulaski to turn around (it was almost comical). The Bull River Marina entrance has a sign for the "Bull River Yacht Club", so look for that.
Make sure to plan your day around the tide schedule. The best times to be there are 1 – 2 hours before low tide and stay till 1 – 2 hours after low tide.
Be careful if you plan to kayak there yourself. Sure it is cheaper than hiring a boat, but the wake from a passing freighter can easily knock you over, the current is actually quite strong, and the tides come in and out rather quickly
Make sure to put your stuff on high ground. The tides come in quickly and the wake from a passing freighter can easily get your stuff wet or washed away if you are not careful.
Some of the mud on the beach is super slick and can be very challenging to walk on. Even if you think you have good balance, it is easy to slip and end up really muddy.
Speaking of mud, the mud on the island is extra thick and sticks to everything like glue. Make sure you bring boots that you don't mind getting dirty. At one point I felt like I was walking on platform shoes because I had about 4" of clay-like mud caked to the bottom of my boots that I could not easily shake off
We brought shovels and sifters, but found that it was easier (and more lucrative) to just go along the waterline and sift through the stuff right on top
Bring some gallon sized Ziplock bags to carry home all your found treasures
You can find a lot more than just Shark teeth (horse teeth, whale bones, vertebrae, etc…). So look for anything that looks out of place or unusual.